Cottbus Zoo opened its gates for the first time on 1 June 1954. In no time at all, a zoo for native species had taken shape in a stunning location between the River Spree and Branitz Park with substantial support from the National Building Corps and dedicated citizens.
Under the direction of Dipl.-Biol. Erhard Frommhold (1956-1963), Cottbus Zoo rose to prominence as a state-approved zoo - one of the first eight in the GDR. Dipl.-Biol. Kunz Rauschert (1963-1966) was succeeded as director by Dipl.-Biol. Klaus Jacob (1966-2002), who played a key role in developing the zoo over a number of decades.
Lions, tigers and bears arrived when the predator house was opened in 1968, followed a year later, in 1969, by the first elephant (Sundali) to come to Cottbus. A comprehensive collection of geese, ducks, storks and other aquatic birds was soon assembled and Cottbus Zoo quickly became known for its successful birdkeeping and breeding techniques.
Original breeds from this era were the Chilean flamingo in 1977 and the West African crowned crane in 1979.
A milestone in German zoo history was the first meeting of the reunified Federation of German Zoo Directors in East Germany in response to an invitation from Cottbus Zoo in 1993. With the support of the city of Cottbus, various companies and the Friends of the Zoo Association set up in 1994, new facilities were subsequently built; these included the administration and staff building (1991), penguin rocks (1993), the porcupine and meerkat house (1993), an extension to the wading bird house (1999) and the gibbon house (1997).
When Klaus Jacob retired in 2002, Dr. med. vet. Jens Kämmerling was appointed as his successor.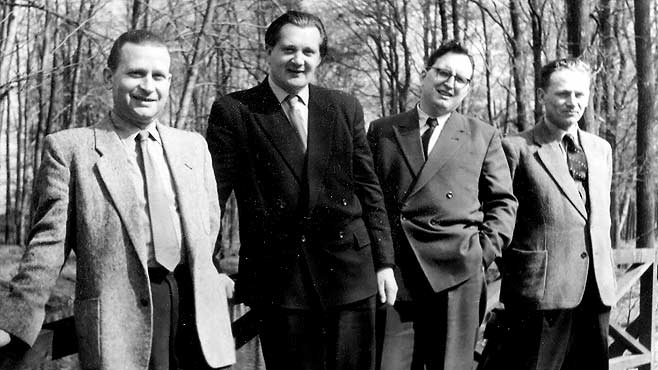 (left to right: Mr Stender - Architect Berlin; Mr Frommhold - Zoo Director; Mr Kruse - Architect Berlin; Mr Klein - Head of Zoo Administration; picture from 1957)